About the center
On behalf of the entire CCM team, I would like to welcome you to the Monaco Cardiothoracic Centre website.
The constant aim of our establishment is to guarantee you the best possible care through the competence of our medico-surgical teams, the quality and safety of our care, our innovative high-tech infrastructures and the availability of our staff.
Particularly attentive to your expectations, our teams are concerned with constantly adapting care to each person, in order to offer a comforting, warm and caring individualised environment.
This website will allow you to get to know our Centre better and find all the useful information to facilitate your contacts with our services.

Guy Nervo
Deputy Chairman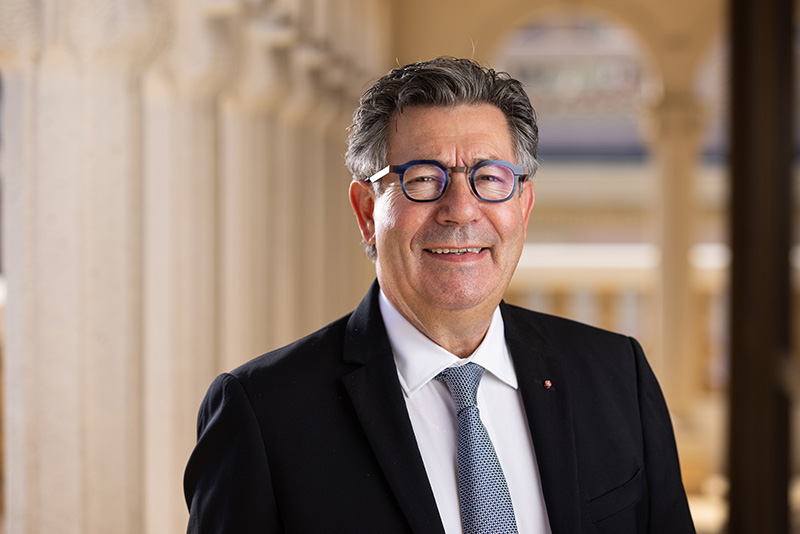 Opened in 1987 and created by Professor Vincent Dor and Doctor Jean-Joseph Pastor, the Cardiothoracic Centre is a hospital exclusively dedicated to thoracic and cardiovascular diseases. Its original concept was to welcome patients of all social, geographical and cultural origins to benefit from the expertise of its medico-surgical teams, on one site.
An approach of excellence implemented by the entire medical staff to guarantee patients optimal quality and safety in the care provided.

Continuous and innovative technological development, creating an optimal environment for increasingly complex interventions.

A human-sized establishment providing patients with attentiveness, availability and personalised care in a comforting and caring environment.

A "medico-surgical" establishment, providing all diagnoses and treatment on the same site, with all the skills at its disposal.

Continuity of care provided on a daily basis, in a collegial environment, by an experienced team available 24 hours a day.

A structure that is "open" to the regular intervention of internationally renowned specialists, approved by the Scientific Council.

A large number of qualified paramedical staff.

A desire to control costs for the community through quality of service, as well as through the application of flat-rate invoicing for care, with a guarantee in the event of complications linked to the treatment provided.